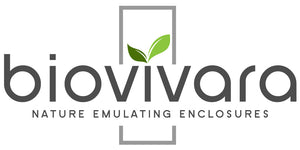 New Logo
We are thrilled to present our professionally redesigned logo!
BioVivara is, first and foremost, a company dedicated to advancing vivarium design to help exotic plant and animal enthusiasts create more beautiful, low-maintenance, naturalistic enclosures that help make plants and animals healthier and happier.
We wanted a logo that better reflected our modern enclosure design. Our designer captured the brief perfectly.  What do you think?
---